Sustainability Champion Awards
The Office of Sustainability hosted the inaugural Sustainability Awards in 2017. The purpose of the Sustainability Champion Awards is to recognize and reward individuals - students, faculty, staff, and team members - who have demonstrated exemplary effort, dedication, and leadership throughout the year in fostering a campus culture of sustainability.
Award Recipients
View the Sustainability Champion Awards Recipients.
Learn More
Learn about the process for submitting a nomination for the Sustainability Champion Awards.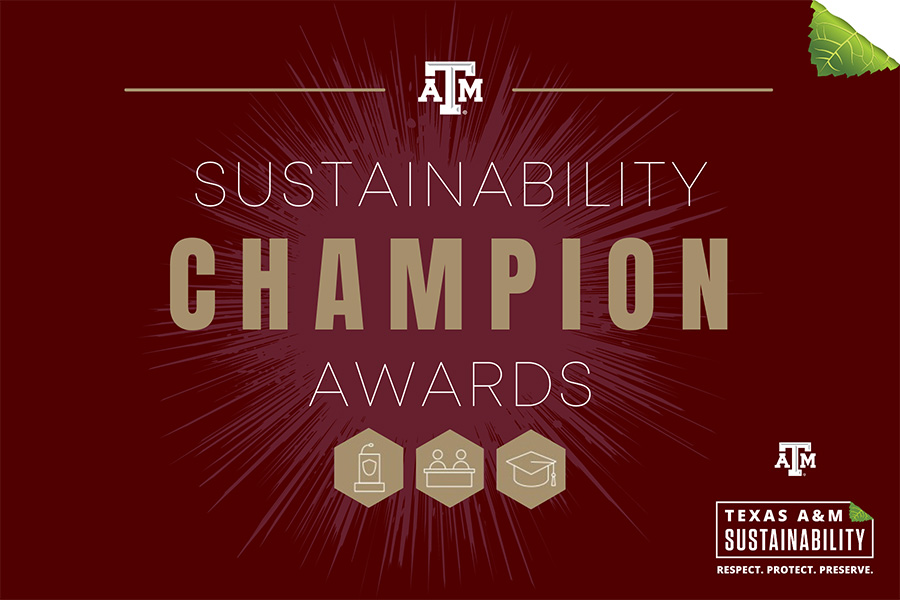 STARS Awards
The STARS Awards recognize the stakeholders who helped compile and enter the data needed to complete the report and the departments they represent.
The STARS 100 Awards - The STARS 100 encompasses all stakeholders who achieved the full points available in a particular STARS credit. We recognize the responsible party for each credit; however, we acknowledge many credits are the culmination of an entire team's hard work. 
Most Improved Awards - Most Improved is awarded to the department which, compared to the most recent previous STARS submission, made the greatest improvement in points earned from their respective STARS credit.
Overall Top Performer Awards - Overall Top Performer is awarded to the department with multiple credits who achieved the highest cumulative point total from their respective STARS credits. This year three departments have earned this award.
AASHE Top Performer Awards - The AASHE Top Performer, is an official designation by the Association for the Advancement of Sustainability in Higher Education. This designation is made for universities who achieve the highest score in an overall section of their STARS submission.
Above and Beyond Awards - The Above and Beyond award is bestowed in special cases for exemplary, high-impact effort that strongly boosted Texas A&M's STARS performance.
Gaining Ground Awards – The Gaining Ground Award was created to honor stakeholders who have made substantial improvement in a STARS credit. Improvements of .5 or greater will be awarded the Gaining Ground award.